The Division 2001
Beowulf II Pledge-A-Thon
As you know, our capital equipment request did not rank as a priority and did not leave the Division. In a final attempt to determine interests and needs in the Division for locally-controlled mid-range parallel computing without using capital, I am raising funds to purchase a 32 processor Beowulf II computer system. If you are interested in using such a system and have a project which can contribute toward its purchase, please let me know by February 8. If you know of others at ORNL who may be able to use this resource, particularly staff within our Directorate, please pass on this request to them.
This system is likely to cost around $50,000 so contributions as small as $5,000 will help. The system would replace a number of nodes in the present Stone SouperComputer and would sit in the computer room in Building XXXX. Projects contributing to the purchase of this resource will have priority use of the machine. If we can't raise at least $40,000, it's probably not worth trying.

P L E D G E B O A R D
Funds Pledged So Far
On Our Way to
Pledging is fun and easy!
Just fill out this simple three-question form and press the Pledge! button and your pledge will be on it's way! Pay nothing now! We will contact you later for a charge number.
Operators are standing by!
If you'd rather not send your very large pledge over the Internet, don't worry! Just phone your pledge in by dialing XXX-XXXX. We can take your pledge right over the telephone!
Another reason to pledge -- Prizes!!
You think we aren't serious? Oh, we are serious! So serious that we're offering prizes for your contributions. Pick you prize and you've picked your pledge!
| | | | |
| --- | --- | --- | --- |
| | | | |
| $5,000 | $10,000 | $20,000 | $30,000 |
That's right, folks! Everyone who pledges at least $5K will receive this fine Beowulf sticker. Perfect for sticking on your laptop; you'll look like a real geek at your next big meeting. Believe me, it will only help your image.
The Tux doll will be awarded to anyone pledging at least $10K toward our Beowulf II cluster. This 6 inch stuffed replica of the real Tux makes the perfect addition to your desk or monitor top. Visitors to your office will be awed by the statement it makes.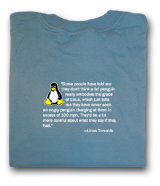 Any pledger offering $20K will receive this sharp looking caffeine mug. With the caffeine molecule scrawled onto the clear glass mug, you will be greatly admired and revered by your fellow scientists.
Finally, anyone pledging $30K or more will win this stone blue shirt with the word 'LINUX' in bold gold on the front. Tux and the following Linus quote are on the back (at right):
"Some people have told me they don't think a fat penguin really embodies the grace of Linux, which just tells me they have never seen an angry penguin charging at them in excess of 100 mph. They'd be a lot more careful about what they say if they had."
You'll never see better prizes than those. So why keep putting it off? Enter your pledge today while there is still time. Click here to hop back up to the pledge form above and enter your pledge. Do it now!
Pledge more than once!
Find an old charge number tucked away in your sock drawer after making your pledge? Don't worry! You can pledge as many times as you like! Remember: it's for a good cause!
The campaign ends February 8th!
So get that pledge in now while you still can!
Thank you for your support!
---

Contact: Forrest Hoffman